Our well-equipped and maintained playground is shaded by the natural environment with many gardens which the children nurture and care for. The outdoor playground equipment is selected according to the age group of the children. The layout and maintenance of all outdoor equipment and surfaces are carefully selected to minimise the possibility of injury to the children.
Outdoors we cater for children who want to play in solitary play through to children who want to run and climb using their gross motor skills.  We have the creative play, quiet areas where the dramatic play can be supported – it includes many and varied experiences for the children.
Our outdoor environment is an extension of our indoor environment.  It gives the children opportunities to explore which provides them with many learning possibilities. The playground includes a bike track, a shaded teaching area which has multiple uses for small and large group play opportunities, a large covered sandpit, an extra-large timber fort which has lots of different areas to support many skills including a climbing wall, slide, clatter bridge, net bridge, monkey bars, and more.
We have a climbing dome, shallow wading pool, musical playground, and three timber cubby houses. We also have the moveable equipment which we offer at different times to support different skills. We have a trampoline, carpentry table, the use of the A-frames which can be made in many configurations for different skills, balance buckets, balance boards, water trough. There is also a quiet area with books, puzzles, colouring-in, painting, construction, and much more.
Montessori believes in teaching the children to support the environment and maintaining it by:
Using special bins for food scraps that get taken to feed the chickens.
Caring for animals found in our environment.
Not stripping trees or flowers/bark/branches.
Caring for plants in our environment.
Planting seeds to develop an appreciation of nature.
Participating in keeping the environment clean such as sweeping paths, raking the leaves and the sandpit.
Putting the equipment away after each use – working as a team to get the job done.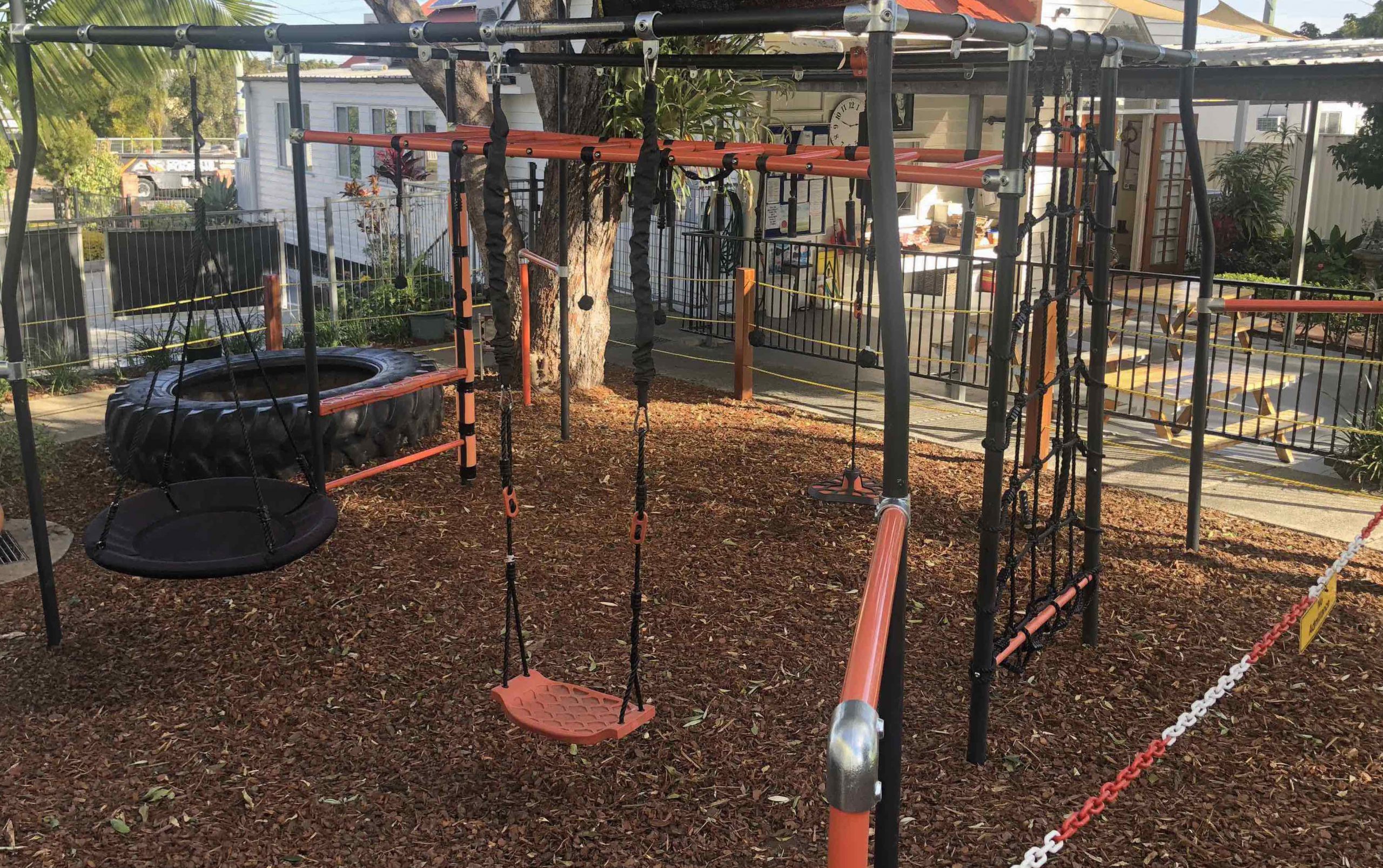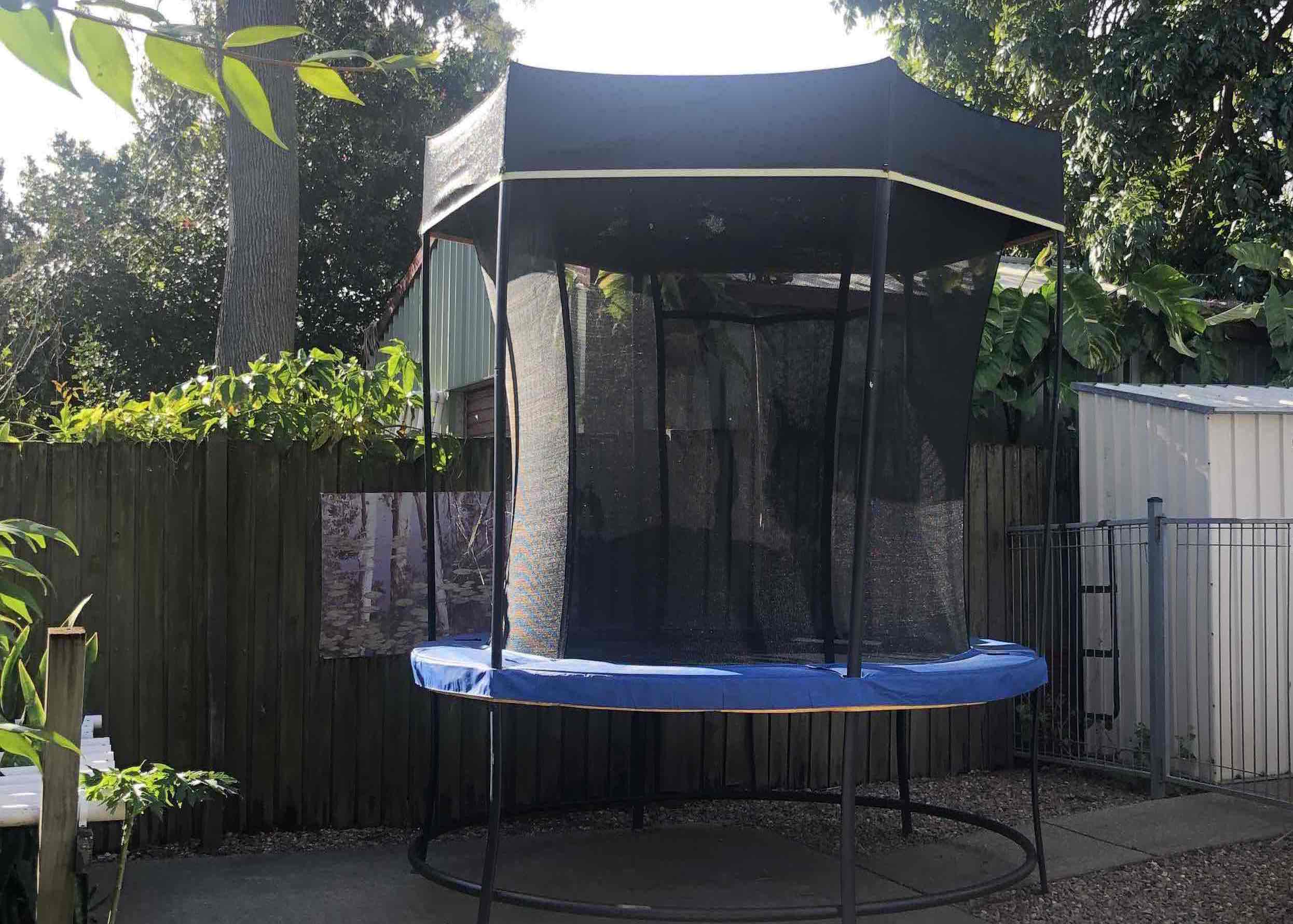 Thanks to Vuly
We have been very fortunate to have been donated a wonderful trampoline and monkey bars from Vuly. The children thoroughly enjoy them without even realising the amazing benefits of what they have to offer. The Montessori Journey is very supportive of the benefits of brain gym, "learning connections between the brain and body". Trampolines and monkey bars offer persistence, it takes time to master specific skills but in such an enjoyable way.  Control over the movement of the body as it teaches muscle control and coordination.  It improves flexibility, develops motor skills for both sides of the brain and body as they must work together to maintain coordination and balance.
Teachers on duty
Staff place themselves at specific stations outside for optimal supervision of the playground.  Staff are mindful to not get into consumed conversations with parents at the expense of the safety of the children. If parents need an in-depth discussion a suitable time will be arranged. All staff either hold a Senior First Aid / CPR anaphylaxis and asthma certificate or are in the process of updating it.
Sun protection
As we are a sun-safe centre the children remain in the indoor environment between the hours of 10 and 3 daily leaving plenty of time to explore our fun-filled playground. We take certain measures to protect the children from the harmful effects of the sun's rays. Staff will set up most outdoor activities in the shaded area. Opportune moments will be used to teach children why we need to protect ourselves from the sun.
Sunscreen App:  The Centre uses a sunscreen App from QLD Council (also available online) in the afternoon before we apply sunscreen on your child. The App tells us the UV rays and if we need to apply sunscreen on for that time. If the UV rays are high we follow the sunscreen procedure.
Sunscreen: We understand that some parents may prefer that their children do not use sunscreen due to the unknown risk involved with putting chemicals on the skin. Please advise the office or put it into your enrolment form your preference in this matter, otherwise sunscreen will be applied on all children.
Hats: Hats should stay on firmly and offer protection to the face, ears, and neck.  Legionnaire type hats and hats with brims of 8-10 cm are the best for providing shade – caps are not acceptable. Children without hats will have to play in the shade. Please name your child's hat.
Clothing: All children wear full hats and full shirts – no singlets. Some fabrics offer better protection from the sun than others. Further information about protective clothing and sunglasses are available through the Queensland Cancer Sun Smart Shops.